Hello, this is Ono.
During the New Year holidays, I went to Cebu while also having a meeting with Filipino members.
Thinking about the day before, I crossed from Cebu Island to Bohol Island, asked for a driver locally, Tasha Conservation Area (Wildlife Sanctuary) → Chocolate Hills → I saw the beach and went back to Cebu Island again, so I will summarize it. .. It is a forced schedule to leave Cebu Island at 8 o'clock and return after 17:00.
There are two types of high-speed craft, Supercat and Oceanjet. Both are just over 2 hours from Cebu Port to Tagbilaran, Bohol Island. Supercat looked pink and was cute, but I chose Oceanjet because there were few operation schedules and I had no choice. There are quite a few here.
The ship leaves from Pier 1 in the port of Cebu. There are up to Pier3, and some ships use Pier3, so check the location when purchasing a ticket. Cebu Port is about 10 minutes by car from Ayala Center Cebu. In Cebu, Grabcar is grabbed right away.
There are several ways to buy a ship ticket.
Purchase same-day tickets directly on site
You can buy same-day tickets at Cebu Port Pier1. If you go early, I think it depends on the season, but I feel like you can buy it on the spot on the day. Check-in must be completed 30 minutes in advance, so if you want to go early, I think you need to be quite early. However, if there are restrictions on the return time, it is safer to hold a round-trip ticket in advance. I went to Bohol Island, but there was no return ship … I'm in trouble ~
Tickets can also be purchased online. However, the Ocean Jet homepage was inoperable from my smartphone, and I saw other sites, but it was inconvenient because the schedule for the next day was not listed and I could not select a day trip … If you have a plan in advance, online is probably the most convenient.
Purchased at Ayala Center Cebu 4th Floor Grand Hope Ventures
That's why I went to the Ayala Center to buy a ticket. Grand Hope Ventures is on the 4th floor of the old building (where H & M is located).
When I went around 17:00, I was told that the system was down and I couldn't make a reservation. Are you going on a random basis on the day? When I asked when it would be restored, "I don't know, but it's about 3 hours?" "How long is the store open?" "Until 20:00. So, come back around 19:50." It was a feeling.
When I returned to that time, the system was restored. All you have to do is fill in the starting point, destination and desired time on the paper you received and select your seat class. The staff made a reservation. I was asked, "Are you really going in such a short time?" Yeah, I don't have time …
It was this seat selection that I was at a loss. Filipinos find that the demand for air conditioners is strong. Even if you look at the explanation, only the explanation that business and tourists have air conditioners and open air does not have air conditioners. Lol
Seat class
Business class 1000 pesos one way
Business class with air conditioner has the most comfortable seat for reclining
Tourist 500 pesos one way
It's smaller than business, but it's a tourist class with air conditioning and movie screenings.
Open air 450 pesos one way
Outdoor seats without air conditioning
However, when I look at many Japanese personal blogs, it is criticized that the air conditioner is too effective and it is cold. I chose open air because I couldn't find any explanation because I thought it was not good for me to enjoy the boat because I was in a small room for 2 hours and couldn't see the outside and was in a place like a refrigerator. As a result, this was the correct answer.
Do open-air seats have a roof? I forgot to ask and couldn't find any information on the internet, so I bought a kappa. But it had a roof!
| | |
| --- | --- |
| Water, sickness stop | I drank on the way, but I didn't drink on the way back because it didn't shake at all. |
| Kappa, umbrella | Purchased at Iso for 100 yen. But there was a roof. No kappa or umbrella was needed on board |
| Cushion pillow | For when you get sleepy. Was helpful |
| Reservation ticket | Don't forget! |
From Cebu Port to Bohol Tagbilaran Port
I went to Cebu Port Pier1 by Grabcar. About 110 pesos from Ayala Center. I wanted to buy water etc. in advance, so I asked to stop by Seven-Eleven, but there was Seven-Eleven near Pier 1, and I asked them to drop me off there.
Check in just like at the airport. If you do not check in 30 minutes in advance, you may be treated as canceled. Then I went through the baggage inspection and went to the waiting room. There was a cafe and a water vending machine in the waiting room.
From Cebu Port to Tagbilaran
The open-air seats I was worried about were surprisingly comfortable. The seats are narrow and there is no reclining and there is no movie screening, but the scenery is beautiful! The wind feels good! I didn't feel the heat at all. You don't need an air conditioner …
It feels good, but I fell asleep in about 15 minutes. When I noticed it was Tagbilaran … The weather was good and there was almost no big shaking.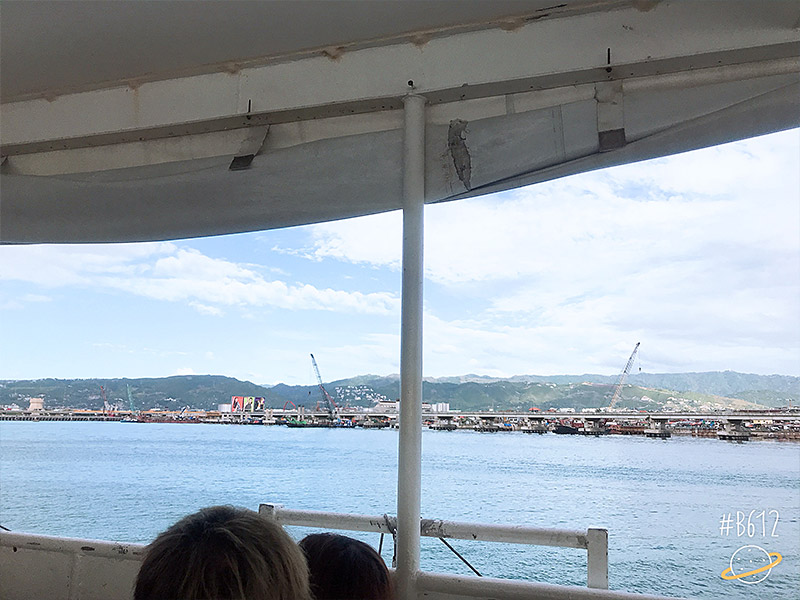 Charter a car with a driver and go around Bohol Island
There are several options for transportation on Bohol Island.
Take the tricycle to the jeepney landing and travel by jeepney.
Pick up the tricycle at Tagbilaran Port and go to the Cogon Bus Terminal. (It takes about 30 minutes to walk here). Then head to Chocolate Hills. I think this is the cheapest. But Chocolate Hills and Tasha are not the destinations of the jeepney, so I had to get off the train, which I didn't like.
If you're traveling only in the vicinity, you may negotiate a day's sightseeing with the tricycle. But I didn't choose it because it takes time to go a little far.
Bike touring is very popular on Bohol Island, and many people rented bikes and traveled there. This may be good if you can find out the way in advance. It seems that you can ride with a Japanese driver's license. I always buy a prepaid SIM from Amazon in advance, but there are unevenness between good and bad connections. If you are touring by relying on Google Maps, I thought that you should also consider the internet line.
After all, I asked a tourist company quickly. When I get off the ship and head toward the exit, I call in a lot. I checked the market price in advance as 2500-3500 pesos. When checking the price, check what is included in it and how many people it is priced for. Also, I will tell you the time of the return ship and I want to come back 30 minutes before, so I will talk about whether I can go where I want to go.
We asked a company of 3000 pesos (per car) including driver, car and petrol to go to Chocolate Hills, Tasha and then Alona Beach. The sales sister said "OK!" With two replies. However, I was investigating how long it would take in advance, so I thought it would be impossible to go around three places.
When the sales sister told the driver, she said (probably) in the local language that the driver couldn't do that, and she's okay, okay! Departure like (probably). Lol
Well, when I ran out of time on the way, I thought I'd get it pulled up and go back to the port.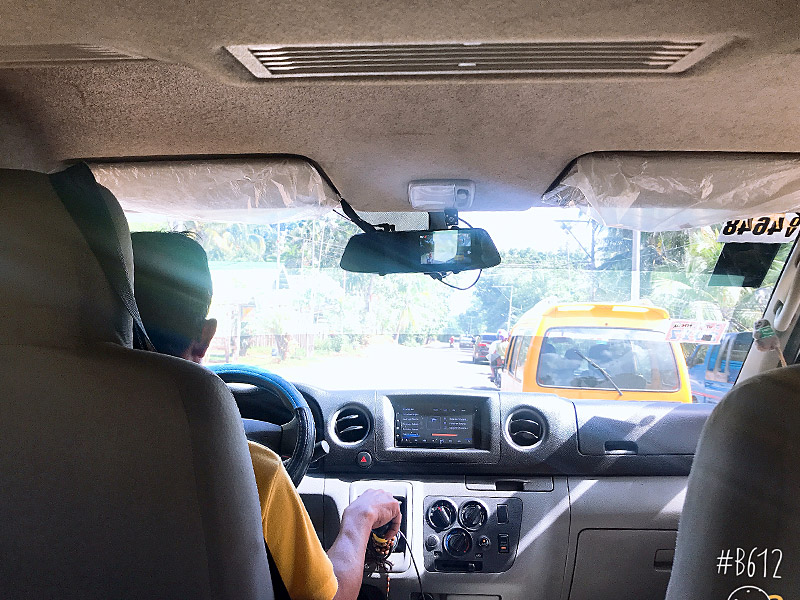 However, this driver's driving skill and skill. I was impressed that he was a driver. He ran through the section, which is said to be 1 hour and 20 minutes, in about 50 minutes. However, it is not driving that ignores safety so much. I thought it would be great to ask someone who is accustomed to moving in no time. I will write about the story of the road on Bohol Island in another article.
Return from Tagbilaran Port to Cebu Port
I was able to return to Tagbilaran Port 40 minutes ago. The departure of the ship was delayed by about 20 minutes, but I boarded the ship in the same procedure as when I arrived and returned to Cebu without any problems. As an aside, at Tagbilaran Port, there was a Pokemon GO Sanigo that is said to appear only in Okinawa in Japan!
Although it was a short time, Bohol Island was a moving trip with its natural scenery! Next time, I would like to spend a little more time traveling around the islands to experience the features of each island.