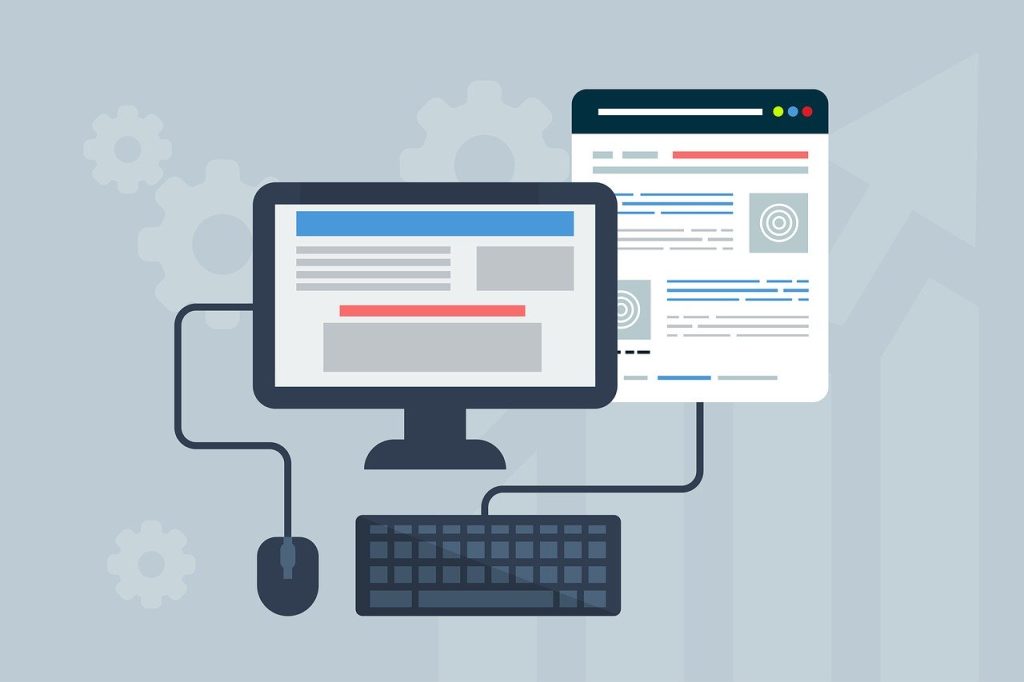 We have summarized the important ideas for BtoB businesses such as manufacturing, manufacturers, and software development when conducting technology marketing and Web production.

What is a website for manufacturers and B2B businesses? It's a sales person who puts you online. In order to make the sales person work, it does not mean that the sales person visits the customer like real sales (field sales). Instead, put the content that your prospects are interested in on the web. The user then visits the website through a search. The more content you have, the more users you have.

Users have multiple stages, depending on their likelihood. By planning the content according to the stage, we will acquire inquiries (leads). We will follow the acquired leads and turn them into business negotiations. Practicing this series of flows is the use of the Web and the practice of inside sales.
Designing a user experience that shortens the sales cycle
The biggest difference between a BtoB business and a BtoC business is that the decision maker is not an individual because the BtoB business is a corporate business. Even if one person actually has the right to make decisions, the decisions are not made solely for that individual, and the advantages and disadvantages of that decision-making are examined for the organization "corporation".
Therefore, it does not act like "individuals shop impulsively while doing window shopping in the city", but generally make decisions by negotiating with multiple levels and departments. Therefore, there are multiple decision makers, and it takes time to make a decision.
One of the major roles of the manufacturing industry and BtoB homepages is to "shorten the sales cycle" . You can do business without a website. Unlike BtoC, it is not a business with a mass partner, so it is possible to find a company that is a prospective customer. You can visit one by one using your feet. However, in that case, it takes a lot of time.
Therefore, we place content on our website and attract people who are interested in it. We have a mechanism for people who have attracted customers to make inquiries and acquire leads. This is the flow of acquiring prospects from the website. But it doesn't end there. Then make a phone call or video conference to the lead to understand, evaluate and classify the other person's situation. We will take a regular follow-up approach to the classified customer list and connect to the contract.
[BtoB sales cycle]
Acquire leads through websites and exhibitions → Evaluation of leads → Business negotiations through inside sales → Face-to-face sales (field sales)
The design of the user experience (customer experience) is to think about what kind of experience will be provided to the customer at each point through this series of flows. Strategic flow such as what kind of customer will come to the website with what kind of problem, what kind of mechanism will be created for it, proposals will be made to the other party's problem, and follow-up will be done. To shorten the sales cycle by building on. First of all, that is required for the manufacturing industry and BtoB homepage production.
Especially in recent years, since each company sends a lot of information on the Internet, it is a disadvantage to give an unpleasant experience in sales at the seller's convenience, and you can easily select another. You need to design your user experience and focus on customer engagement.
Examples of Big Rep doing webins and live demos
Make users think they are experts, but user-centric content
At manufacturers and OEMs that develop products for professionals, the target users are often professionals as well. The professional will not take the action of inquiring unless he / she feels more knowledge from the content on the website.
Content in the manufacturing industry and BtoB homepage production requires both providing specialized knowledge to users and solving their problems. Specialty is the foundation that creates user benefits.
When selling consumer products, it may be only consumer benefits that appeal to consumers. For example, there is a product called Facial Light that makes your face look beautiful when you hold a video conference, but as a consumer appeal, you only need to show before and after using that light and how the light makes your facial expression look beautiful. It is. Users are not interested in the expertise of why this happens.
In the case of BtoB products, consider, for example, a product called a measuring instrument. By using the measuring instrument, more accurate measurement can be performed, and as a result, in-house quality guidelines are strictly set to contribute to high quality. In this case, it is not enough to say, "If you use this measuring instrument, you can tighten the quality guidelines and increase your competitiveness" like the facial light mentioned earlier. For management and management class, the goals of upper management such as increasing profits and strengthening competitiveness are important, but the challenges for users of measuring instruments are even closer.
In other words, in the case of the manufacturing industry and BtoB business, the interests differ depending on the type of job, department, and rank, and it is necessary to show the benefits and the expertise that can be realized.
Also, in recent years, I think it is often said that the level of Japanese engineers is declining, but I feel that the importance of educational content is also increasing. Knowledge is required to make decisions and make internal approvals. It would be a good idea to have web content that can supplement that knowledge.
The case of MAC that publishes the knowledge handbook on humidity
MAC, a manufacturer of temperature and humidity measuring instruments, not only describes its products, but also publishes academic content on humidity and hygrometers themselves.
The introduction says, "Through dialogue with various companies, I realized that not everyone has the correct knowledge about humidity and hygrometers. As a leading company in the industry, I realized that. I think it's your responsibility to explain. "It's content that provides knowledge. For analysis on MAC, see note .
Obtaining leads from websites is important for manufacturing and B2B companies. I mentioned the sales cycle in 1, because the beginning of the sales cycle starts with "acquiring leads."
[BtoB sales cycle]
Acquire leads through websites and exhibitions → Evaluation of leads → Business negotiations through inside sales → Face-to-face sales (field sales)
Reed is used synonymously with prospect in Japanese, but the point is that this is not necessarily synonymous. Through exhibitions and websites, you can get leads in various ways, such as requesting a quote, making inquiries, applying for a demo machine, or downloading materials. But they are not 100% prospects.
According to the book "THE MODEL", the breakdown of leads is that 65 %が育てる必要があるリード(将来の見込客)、25% are competitors and partners (no prospects), and 10% are prospects. In other words, if you can't grow the leads you've acquired into prospective customers, using a website or exhibiting at an exhibition is like putting a lead in a colander with a hole.
Lead acquisition from websites is centered on content marketing. Add content to win leads and attract users who are interested in the content. Other ways to get leads include advertising, holding seminars, and exhibiting at exhibitions. But the difference between content marketing and other methods is that content accumulates . If one article can get one lead a month, 100 articles will lead to 100 leads. If advertising and seminars are profit-and-loss behaviors, content marketing is an asset-based behavior.
And it is the creation of a search engine-friendly website that supports "acquisition of leads by enriching content".
Being search engine friendly has many different aspects. It's mobile-friendly, and it needs to be a fast-loading website.
However, what is important here is that for manufacturers and BtoB businesses, "search engine friendly" is not just about trends such as SEO and Google measures, but it is the purpose of "increasing leads", which is the beginning of the sales cycle. This is because it is necessary to plan user-centered content, and it should be considered as a set. It's not a world where "today was 10th, yesterday was 3rd".
Monthly 1 article blog update, case of FAIRLANN TOOL
In FAIRLANN TOOL for sheet metal processing, the blog is updated once a month with contents that prospects are wondering, such as "What is sheet metal tolerance? Why is it important?" "Turret punch punch vs laser cut. Which is better?" I am. And when you search for laser vs turret, our blog is displayed at the top of Google, and monthly article updates lead to not only the influx from search engines but also the variety of search keywords.
Below is the screen of the competition analysis tool SpyFu. On average, 443 keywords were clicked 2.28K per month. For an analysis of the Fairlawn Tool, see note .
CTA is an abbreviation for Call To Action, which is a link button that guides a user who visits a website to some action or for that purpose. If you set up an inquiry form and put a "Click here for inquiries" button on the website to guide you to that form, it will be one CTA. And it is desirable to plan and place multiple CTAs on the manufacturing industry / BtoB homepage.
For example, the following CTAs can be considered.
| | |
| --- | --- |
| Document request | Mail catalogs, pamphlets, etc. |
| Booklet request | Create a themed booklet and download or mail it |
| Data download | Make it possible to download analysis data etc. |
| Simple diagnosis | Have them fill out the necessary information on the web form and perform a simple diagnosis. |
| Consultation / study session | Hold counseling sessions and study sessions in-house |
| Demonstration request | Bring a demo machine and perform a demonstration locally |
| Test machine rental | Lending a test machine |
| Sample / Trial | Providing product samples for a fee or free of charge |
| Quote request | Make a quote |
| Visit application | Apply for inspections such as factory tours |
| Newsletter registration | Accept newsletter registration |
Why do you need multiple CTAs? This is because the degree of interest in products and technologies varies from user to user. We consider "purchase" to be the highest threshold conversion, and aim to increase the number of leads by planning multiple conversions with a slightly lower threshold in front of us toward the final goal.
When you have content on a website that helps solve a user's problems and attract customers with that content, that user is the person who searched for you. When considering attracting customers from search engines (SEO, search engine-linked advertising, etc.), only those who are actively trying to solve the problem can attract customers . This is the limit of marketing using a search engine.
On the other hand, by exhibiting at an exhibition, it is possible to approach "people who did not realize their own problems". These people may visit the website later. As you can see, there are various stages of user interest. Therefore, planning multiple CTAs and placing them on your website will lead to an increase in the number of leads.
The case of MicroGroup, an online store for those who want it now
Micro Group, which manufactures medical devices such as stainless steel tubes for medical use, presents three CTAs from the top page. Request a quote (orange button in the center), buy now (online shop to the right), ask a question (light blue chat in the bottom right).
On overseas websites, I often see chats even on manufacturing / manufacturer websites. Having an online store for those who "want it now" is very convenient for those who are deciding to buy. This website is "straightforward" to these three types of requests. For an analysis of MicroGroup, see note .
Use video to encourage decision making
YouTube has become the second search engine after Google, and video utilization is also an important factor for lead acquisition.
Especially in the case of video, the degree of interest has been found to be influential not only in the early stages of users, but also in the decision-making stage. According to the marketing research report " 2020 Smart Marketing for Engineers® " for engineers, the following are important contents for decision making.
In the web strategy of lead acquisition in the manufacturing industry and BtoB, we will disclose information until we are interested in our products and technologies and enter the examination stage, so that users can freely search for information at their own will. .. Then, when it is in the examination stage, enter the e-mail address etc. and plan the content so that you can follow it concretely.
| Awareness expansion and interest arousal | Initial examination | Mid-term consideration | Late examination |
| --- | --- | --- | --- |
| Publish market trends and technology introductions on blogs to strengthen customer attraction | Introduce your company's products, convey the features of your company through how-to content, etc., and educate the information necessary for decision making. | Providing information at the time of comparison in comparison content, webinar, etc. | Introduce product demos, rentals, data sheets, customer cases, etc. to encourage decision making |
Information required according to the stage of the examination process, such as "Users who are interested at the entrance of various information such as blogs make decisions by obtaining specific information from product demo videos and case studies" it's different.
And, as well as datasheets as important information when making decisions, product demo videos, How-to videos, and webins are useful in the video field.
Other themes for manufacturing and BtoB video utilization include the following.
| | |
| --- | --- |
| FAQ video | By answering frequently asked questions, you can answer your questions. |
| Video explaining popular blog articles | Popular articles that are often viewed have proven to be of great interest to users. While explaining the blog article with a video, we will further deepen the content. |
| Case Study | Here's a case study of how your products and technologies have created customer benefits. |
| Product comparison video | If you have similar products, explain the differences to get a better understanding of the products. |
| Industry research video | It conveys industry statistics and data that we have independently researched. We are familiar with the industry and can appeal as a leading company. |
| Product training video | We will explain how to use the product and training with a video. Reduce the time it takes to respond to customer questions. |
| Message from the President | When the president talks about his vision, he can give the impression that the company has a future. |
This item belongs to "search engine friendly" from a big point of view. But dare to think about why it's important to be responsive.
Responsive web design is a website design that changes the "look" of a website in a way that suits each device when browsing the website on a mobile device such as a smartphone or tablet. Rather than building multiple websites such as PC version, smartphone version, etc., we design the website itself so that it changes according to the device you browse.
If you build multiple websites for each device, it will be complicated to operate and it will be difficult to centralize information, so I think it should be avoided.
But how many people in the manufacturing and BtoB businesses actually browse websites on devices other than personal computers? The following is the percentage (average value) of mobile users who are viewing the small and medium-sized manufacturing homepage managed by our company. About a quarter of users, including smartphones and tablets, browse websites in a mobile environment.
For these mobile users, being an easy-to-read website is related to the user experience of 1 and the search engine friendliness of 3.

Currently, Google's search system has introduced Mobile First Index (MFI), and search evaluation of PC pages is performed using mobile sites. You can also check the improvements in the search console provided by Google. If you forcibly display a website for PC on mobile, it should not be easy to see.

For example, the following errors, such as "small characters" and "click elements are too close" (smartphones are tapped with a finger, so it is difficult to tap when the click elements are close) can be solved only by the computer website. I can't help it.
The problem for B2B operators is that this affects their search rankings on their PCs. Compared to the BtoC business, the mobile ratio is not so high on homepages for manufacturing and BtoB, but responsive support can be said to be a must because of the high-ranking display of PC version websites.

Product introduction that is easy to see even on mobile JOHN DEERE
The product introduction page of JOHN DEERE, a manufacturer of agricultural tractors, is designed to be very easy to see even on mobile. It is a long page including videos and specs, but you can browse it on both PC and mobile without stress.
Utilization of SNS for recruiting human resources
Finally, I would like to touch on the use of SNS. You may think that manufacturing, BtoB business and SNS utilization are not very compatible. Is it the impression that "I think it's better to work on it, but it's not that important"? However, from the perspective of recruiting, SNS is an important medium. LinkedIn is an SNS that is often used overseas, but it is not well known in Japan, so overseas cases are not very helpful here.

In Japan, there are cases where large companies mainly operate Facebook pages and twitter accounts dedicated to recruitment. For example , Oracle's recruitment twitter and DMM's Facebook .

In the case of small and medium-sized enterprises, even if you do not go to the point of creating an account dedicated to recruitment, you will have a sufficient advantage just by disseminating information from a public relations perspective, such as introducing your company's efforts, internal information, and products. This is because most Japanese SMEs do not use SNS.

Information dissemination from a sales perspective is different from information dissemination from a public relations perspective. The points 1 to 6 mentioned above are from a sales perspective, but utilizing SNS from a public relations perspective will contribute to the recruitment of human resources. As you can see, it is important to clarify the purpose when using the tool.
These are the seven points in the manufacturing industry, BtoB homepage production, and Web strategy. I think the great thing about using the Web is that you can get a niche top position regardless of the size of your company. If you have any sales issues, please let us know . We will make proposals from the perspective of using the Web.