>Free download of BtoB marketing management tools
CPM and customer portfolio management are customer analysis methods that have been used for a long time in the paper and catalog mail order industry, and are now needed for online shops. Companies have different consumer bases. One customer base buys things on a regular basis for a small amount of money, while another customer base buys high-priced goods on an irregular basis.

CPM and customer portfolio analysis considers customers separately according to these "different connections" and future purchase potential. Many CPM customer-defined perspectives include both sales and risk to the enterprise. Creating and visualizing a customer portfolio helps you better understand your customers. Companies can get important information on how to manage their respective customer groups in order to make a profit.
Why is CPM needed for online shops?
Our horizons are limited by what parameters we can handle. What would happen if we could only handle web analytics data? For example, what would you think if you saw the following situation?
| Sales | Purchase number | Average customer unit price |
| --- | --- | --- |
| -1.5% | -20% | +30% |
Compared to last year, this shop has sales of -1.5 %、購入数は-20% , and average customer unit price of + 30%. In reality, sales haven't changed that much, so some store managers don't care about this situation. But you might think, "This is risky." If the sales are almost the same and the unit price per customer is increasing, it means that the number of customers is decreasing.

This is not a very good situation. If this shop has two types of customers, "a group that buys small items on a regular basis" and "a group that purchases high-priced items on an irregular basis", "to reduce risk". , You should increase the number of customers who make regular purchases, even for small amounts. " Then, I would like to propose to this shop to increase the product lineup with low unit price and to develop new customers in a new class.

But you can't be confident in your proposal. There is no objective basis to support my opinion, and even if I execute my hypothesis, I don't know how to verify that it was correct. And, "If you execute your idea and the average customer unit price goes down, but the sales go down …", I'm worried. After all, it may stop making suggestions.

In this situation, creating a customer portfolio is a powerful tool to convey your opinion logically.
The famous CPM method in Japan is the "Yazuya-style CPM" invented by Yazuya Co., Ltd. In Yazuya CPM, customers are divided into 10 groups from the viewpoint of "purchase amount", "enrollment period", and "withdrawal period". And we will be able to offer different value propositions to each group.

Purchase Amount – The amount the customer purchased from your shop.
Period of Enrollment – The period from the customer's first purchase date to the last purchase date. During this period, the customer is considered to be in contact with the shop.
Withdrawal Period – The period from the current date to the customer's last purchase date. It means a period of time when you are away from the shop.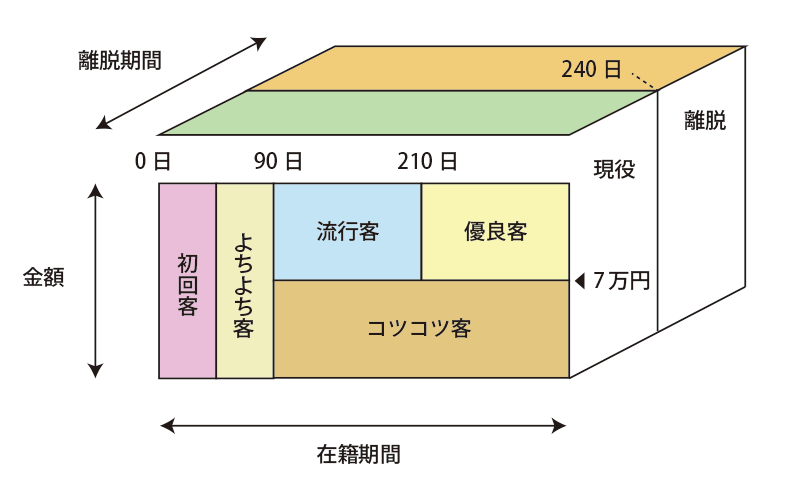 First time customer

Toddlers

Trendy customers

Steady customers

Steady customers

Active customers

Purchase price

-

-

70,000 yen or more

Less than 70,000 yen

70,000 yen or more

Enrollment period

0

0-90 days

90-210 days

90 days or more

90 days or more

Withdrawal period

0-240 days

Withdrawal customers

Customers in each group will move to the withdrawal group 240 days after the last purchase date.
*) Each name is based on the repeat customer doubling practice meeting.


All CPM theories have multiple segment perspectives such as sales, growth potential, and rate of return to define a customer group.

Yazuya-style CPM has a "period of enrollment" as one of the conditions, which is one of its features. In other words, how long a company maintains relationships with its customers is considered an important indicator. Yazuya Shiki does not place much importance on finding good customers, but rather considers stubborn customers as an important group. Because they are important candidates for good customers.

If a company concentrates only on making suggestions to good customers, the number will gradually decrease. Therefore, the important thing is to retain and expand the number of customers.

Yazuya Shiki talks about the concept:
The important thing is to protect existing customers rather than attract new ones. The purpose of our CPM is to find out-of-communication customers as soon as possible, convey the appeal of our products and the company's vision, and retain them as our long-term customers. The cost of retaining a customer is not an expense, but an investment. Because of our activities, they will eventually grow into profitable and good customers.
How to create a customer portfolio based on Yazuya CPM
Classify customers into 10 groups.
First, create a table that includes "number of customers in each group," "period of enrollment," and "unit purchase price," as shown below.
Visualize with a bubble chart.
The horizontal axis shows the period of enrollment, the vertical axis shows the purchase price, and the size of the yen shows the number of people.
Make a monthly comparison.
First of all, you need to look at the graph to determine what is the biggest challenge. For example, suppose you think, "The biggest problem is the big bubble of stubborn withdrawal." This is because the steadily withdrawal circle is larger than the steadily active circle. Even though steadily customers are important candidates for good customers, if you look at the graph, you can see that many steadily active customers are steadily leaving customers.

Withdrawal Customers-If a customer does not purchase anything for more than 240 days, they will be transferred to the withdrawal group.

Then, you can take measures to reduce the bubble in the next marketing plan and compare it with the graph from the next month onwards to see if it was effective. If the circle of steadily withdrawing customers is getting smaller and the circle of steadily active customers is getting bigger at the same time, the measure is successful!
It's a good idea to compare this graph every month to monitor the results of your marketing efforts, including web marketing.
Start with customer needs
Analyzing only from web analytics data can only have the perspective provided by the tool. For example, the number of users, page views, session period, etc. If you have the data at the time of purchase, you will be able to handle the conversion rate, the number of purchases, and the average customer unit price. But whenever we consider a marketing plan or validate the results, we must measure the impact on the "customer base". The customer base represents the customer needs of each group.

In fact, we should already have a "customer definition" when we start our business. But unfortunately, web analytics data alone cannot see the impact on the customer base. We need to have tools to measure the impact on our customer base. Yazuya-style CPM makes it possible to monitor the degree of growth of each group to be a good customer.