Differences between web operation and web consulting, web production, and web maintenance
We operate the Web for manufacturing, manufacturers, and BtoB companies. I think that "the place where tasks are born" is the most different difference between Web operation, Web consulting, Web production, and Web maintenance.
First of all, in Web consulting, experts will give advice and our employees will do it. In web production, web producers and web directors summarize client requirements and produce based on them. I think it's my job until it's released, and I don't operate it, so I often go into maintenance.
Web consulting involves strategy, and web production may or may not have a strategy. There is no strategy for web maintenance. Maintenance is an activity for "maintenance", not an activity for seeking something new.
In "Web operation", an operation team consisting of both the client company and the Web operation company operates the website and creates tasks by itself from the feedback. When heading to the "unknown" such as "development of sales channels for our own products" and "development of new customers for new businesses", we will confirm the reaction of the market while doing new things, and flexibly change the task while clarifying the strategy. We will operate the website when challenging such a "difficult to predict" market environment.
"Consulting" begins by analyzing the "gap" between what the future should look like and the current situation. Then, do what you do to fill that gap and ask them to do it. A major feature of consulting is that the performer is not a consultant.
Since the consultant has to have another person do the execution, it also includes "help to remove the barrier necessary for the execution" such as the way of thinking and the execution procedure necessary for the execution.
Set intermediate goals and check progress. Based on the plan you have created, analyze the gaps at the mid-term goals and make changes to the plan as needed.
Web consulting challenges
Companies that can get results from web consulting
It is a company that can be executed by ourselves. For example, in the online shop industry, we operate the online shop in-house. We will carry out advice from consultants one after another, give feedback to the consultants, verify the results, and lead to the next action. Web consultants will be of great help to companies capable of such activities.
In web production, the purpose of the production is clarified, and the scope, schedule, and cost are planned at an early stage. The site structure is solidified, the functions to be implemented are broken down in the form of WBS, etc., the schedule is managed by Gantt chart, etc., and it is produced.
The feature of Web production is that "the whole picture of the plan is revealed at the initial stage". And it's essential to build the planned website exactly as it is. Website planners, directors, designers, code writers, etc. are often divided into divisions of labor.
Web production challenges
Companies that can achieve results in web production
A website is a company that has a clear role to play in the overall business, understands its customers, and can communicate their needs to the web production company. Since a website is a tool, if you can clearly tell the web production company "what you want to do (why and what)" and think about "how" together with the web production company for that purpose. , Web production companies have more know-how about tools and methods such as IT and digital marketing, so they can be useful.
Web maintenance is an activity to "maintain" a website created based on the "strategy" hypothesized at the time of web consulting and web production, and there is no strategic element. Maintenance includes updating information, updating the system to reduce security risks, and so on. Since there is no strategy, it is a feature that "hypothesis verification" is not involved in maintenance work.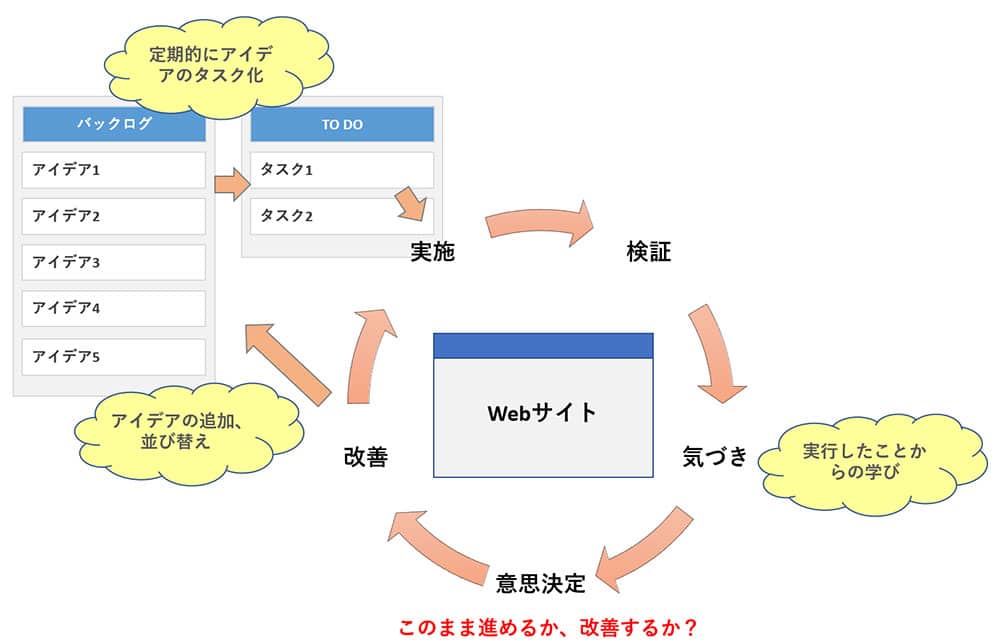 In Web operation, when it is difficult to "make a solid plan at the beginning" like Web production, we will implement the function on the website based on the hypothesis, see the result, and change the plan while changing the website. How to build.
In the initial stage, the function to be implemented is kept as a backlog, prioritized, tasked, and implemented. After that, we collect data using cloud tools such as access analysis, marketing automation, and SEO tools, and verify what the "results" we implemented were. Based on what I noticed here (learning from experience), I will regularly review "whether to keep the plan as it is or improve the plan".
And if improvement is necessary, we will review the contents of the backlog, re-prioritize it, and execute it. Web operations are performed when a company makes a new initiative or is in a fast-changing market environment.
Companies that can achieve results through Web operations
It is a company that does not hesitate to participate in hypothesis construction and make changes based on the data obtained from the results, rather than "throwing the whole thing" or "leaving it to us". I prefer to emphasize "awareness gained from the execution of 100" rather than "strategy of 1", and to learn and change "strategies, but what is the actual situation?" From the results. A company that changes with customer thinking.
Web operation style of Web utilization management
As a "Web operation company", we operate the Web of manufacturing and BtoB business companies. We will participate as an operation team together with companies at the stage who want to make changes "using the Web", such as developing new product sales channels, increasing the number of business negotiations, and digitizing sales.
Unlike large companies, small and medium-sized companies have limited resources in the first place, so we believe that improving execution ability has a greater impact on management than creating a single excellent plan.
Also, when considering the use of the Web and IT, it is essential to improve the capabilities of internal human resources. In Web operation, the operation team will also participate from the company side, and PDCA will be run together. You will be able to understand / experience and execute what it means to "change while looking at the data". We believe that there is an inseparable relationship between human resource development activities that can utilize such IT and "Web utilization."
Is it possible to develop human resources who can operate the Web?
Ten years ago, I think it would have been extremely difficult to develop human resources for Web operations. The advent of "cheap cloud tools" has greatly contributed to the background of the times when this has become possible. For example, 10 years ago, even if you spend 100 hours a month for Web operation, if you plan in 10 hours, design in 20 hours, and code in 20 hours, you can only create 2 planning pages.
If you think about research for SEO, activities to attract customers after execution, and verification activities using Google Analytics, you may be able to operate only one page.
However, with the advent of inexpensive cloud tools, it has become possible to understand the concept of tool developers and utilize their know-how "if they can use the tools" without any knowledge. This is a revolution for the web operations industry. By letting the tool do what the tool can do, you can overwhelmingly increase the time available for Web operation.
For example, the WordPress Elementor we use can significantly reduce the time it takes to manage the operation of web pages. ahrefs will dramatically reduce your SEO research and keyword extraction efforts. The Trello Kanban Board helps you flexibly swap and prioritize tasks. Such "cheap cloud tools" have made it possible to easily and speedily perform "what only people with specialized knowledge could do" so far. Also, using such a tool is different from "using Word or PowerPoint".
In the first place, the tool itself has a "development concept", so you can't use it without learning the idea. Learning how to use a tool is very close to learning how to think about it.