Is the future predictable?
We value the facts. Facts are the result of execution.
The need for digital and web utilization is part of the functional strategy of a business. Doing so helps in formulating a strategy and achieving the goals. Having a plan helps in developing new ideas and making better decisions.
Creating a website is "all hypothetical activity." The hypothesis cannot be tested without "Web operation". We are building an execution-centric Web, thinking that "planning is just prediction".
How to go to the "unknown"
The hypothesis level is high when a company starts "new things" such as new business or market development of new products. That is because few materials can be utilized in the experience. However, in conventional Web production, the page structure is determined based on a hypothesis, and it is proceeded by dropping it into a schedule. After everything is completed, it will finally be released. For example, what if the hypothesis is different as a result of renewing the website over half a year? Remaking is very large and takes more time than anything else.
In addition, it is difficult for such a construction method to flexibly respond to "plan changes". Plan changes can be confusing, with higher quotes and longer delivery times.
What we emphasize is that the plan will change. Because "what you know when you try" can grow us, including our clients, and "make better" our next plans. The method of deciding everything before building a web ignores "people learn and grow from the experience gained while building and operating a website."
Therefore, instead of building everything and then publishing the website, we make it small and publish it, and change the plan (change the task) while reviewing it as "Web operation".
Specifically, the item "I wish there was such a function" is first listed as a backlog. While discussing regularly, make it a task as "TO DO", carry it out from one end, and see the result. When you look at the results, you can "learn from experience" about "plan changes" (if necessary), whether the current backlog is okay, add, remove, or change. I will proceed based on.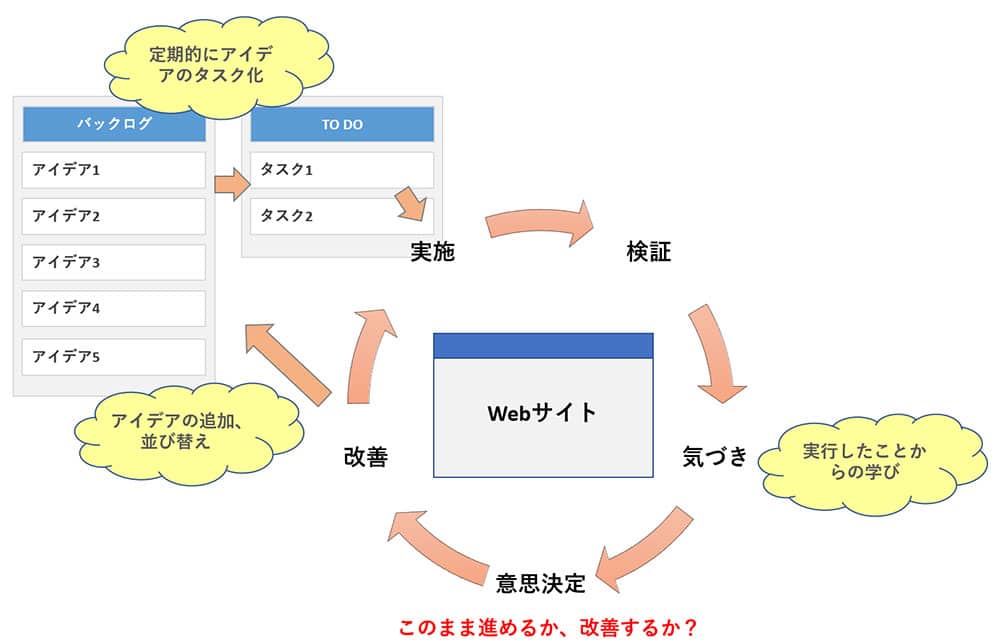 For example, suppose you have the hypothesis that this product meets A's needs. Based on that hypothesis, we will create a proposal page. We will take SEO measures there. Let's say you're in the top 10 with the keywords you're aiming for. Suppose the next TO DO is "advertising". However, let's say the performance of this page is a contact rate of 0.01%. Will you advertise?
If 0.01% is cost-effective, you can get it, but in many cases you won't. What's wrong? Is it the hypothesis of the needs of A, the selection of search keywords, or the quality of the page?
Field issues are not separated by the boundaries of the web industry
What's present here is SEO, advertising, or page design. If you ask an SEO company, you may not touch on advertising, and if you ask a design company, you may not touch on SEO issues.
We need to improve our thinking based on the results. If 0.01% performance isn't cost-effective for your ad, remove or lower your priority on the planned "Ad Placement" task, and which of the three is the most "potentially problematic" You need to determine if it is expensive and make improvements.
In this way, field issues move beyond the boundaries of the web industry. And "what I was hypothesizing" is hardly true.
To succeed, you have to improve to get closer to success.
Web operation style of Web utilization management
As a "Web operation company", we operate the Web of manufacturing and BtoB business companies. We will participate as an operation team together with companies at the stage who want to make changes "using the Web", such as developing new product sales channels, increasing the number of business negotiations, and digitizing sales.
Unlike large companies, small and medium-sized companies have limited resources in the first place, so we believe that improving execution ability has a greater impact on management than creating a single excellent plan. It means using speed as a weapon.
Also, when considering the use of the Web and IT, it is essential to improve the capabilities of internal human resources. In Web operation, the operation team will also participate from the company side, and PDCA will be run together. Experience "changing while looking at data" and improve the ability to execute … I think that there is an inseparable relationship between human resource development activities that can utilize such IT and "Web utilization". I am.
Is it possible to develop human resources who can "operate on the Web"?
Ten years ago, I think it would have been extremely difficult to develop human resources for Web operations. The advent of "cheap cloud tools" has greatly contributed to the background of the times when this has become possible. For example, 10 years ago, even if you spend 100 hours a month for Web operation, if you plan in 10 hours, design in 20 hours, and code in 20 hours, you can only create 2 planning pages.
If you think about research for SEO, attracting customers, and verification activities using Google Analytics, you may be able to operate only one page.
However, with the advent of inexpensive cloud tools, it has become possible to understand the concept of tool developers and utilize their know-how "if they can use the tools" without any knowledge. This is a revolution for the web operations industry. Know-how can be standardized by learning tools.
Also, by letting the tool do what the tool can do, you can overwhelmingly increase the time available for Web operation.
For example, the WordPress Elementor we use can significantly reduce the time it takes to manage the operation of web pages. ahrefs will dramatically reduce your SEO research and keyword extraction efforts. Such "cheap cloud tools" make it possible to easily and speedily perform "what only people with specialized knowledge could do", and contribute to the development of human resources for Web operations.
Let's move the work forward, and as we do, let's add detail!
Anyway, let's move the work forward! And that's what we can do in detail. Is the slogan. I don't think planning is unnecessary, but no matter how detailed you think, planning is just a prediction. Try it and you will understand. We will make use of such experience in the next plan in a small cycle.