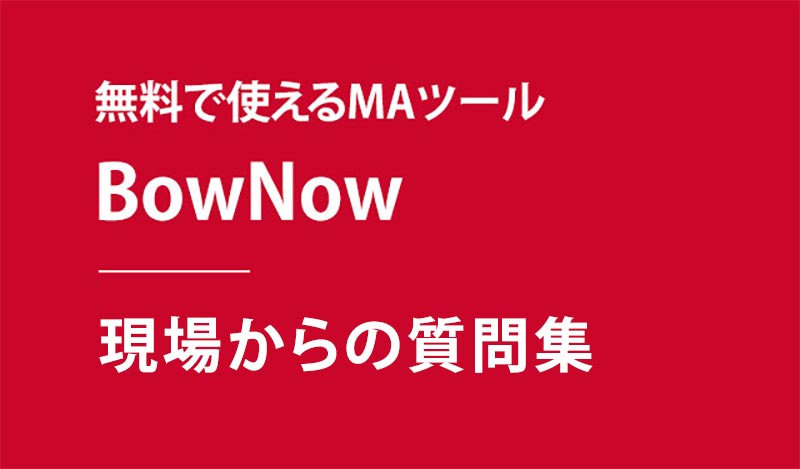 BowNow is a ma tool (marketing automation system) for small and medium-sized enterprises. (Click here for details on BowNow ) Here, we will answer the questions that come up while actually operating BowNow.
I want to change the status after filling out the form
When planning a form for a prospect with a high degree of consideration, you may want to rank the user who filled out the form to a specific status such as "Apo prospect". In that case, you can set the status on the setting screen of the corresponding form.
I want to know how many people are visiting a website from a specific company
On the lead search screen, enter the company name you want to search for and search. At this time, "Specify management information"> By selecting "Unknown user type", reports including unknown will be extracted. If the number of visits from a particular company increases one day, you can predict that something may have happened within that company.
I would like to guide A's employees to exhibit at the internal exhibition of company A.
Search for leads using the same procedure as the previous "I want to know how many people are coming from a specific company". In this case, specify the condition with "With email address". Create an "email destination list" from the extracted leads and send a guide.
Do you know how to download unknown files?
Yes, I understand. Search by specifying the downloaded file you want to check from the user action specification. At that time, include "Unknown" in the management information specification. You can check the download history of materials that you can freely download, such as company pamphlets, by reading the file from BowNow.
How to use BowNow status, memo, ToDo, and tag properly?
The customer (lead) consideration level is managed by "status", the approach history is left by "memo", if you want to keep the special conditions, it is managed by "tag", and the next action is managed by todo. I recommend it.
I want to embed YouTube in an email and play it in the email
At this time, we do not support YouTube playback in emails because there is an environment where YouTube cannot be played on the receiving side. We recommend creating an image that looks like an embedded video and embedding it as an image in an email (click to link to YouTube).
No new leads will increase!
It is recommended to use access analysis such as Google Analytics to find pages that are frequently accessed, and distribute white papers that users who come to those pages want to know. The point is not to send out what we want to send, but to plan "what visitors to pages that have already attracted customers want to know" as download materials. Doing this in descending order of access will contribute to the acquisition of new leads.
What should I change my status to if I send a thank-you email to the person who downloaded the whitepaper?
The first thing to determine is "whether or not you need a quote." If you don't need a quote now, it's a good idea to change the status to "Loss" or "Not set". It doesn't make sense to leave someone who "may need a quote" on the dashboard, so once you release the status, and if the lead moves, it will go up to "explicit" or "appointment prospect". increase. You can follow at that time.
I want to get only the prefecture, but it is not reflected in the lead information
In the BowNow form, the default address provided is a full set of "zip code, prefecture, city, address 1, 2", which takes up a lot of space as it looks.

Since you don't need such a detailed address, you may want to get only the "prefecture". However, if you create a "prefecture" with your own pull-down, it will not be reflected in the lead information, and you will not be able to extract leads for a specific prefecture with "lead search".
In such a case, we recommend "groups" or "tags" that can be used in conjunction with management information when creating forms. On the screen for inserting form parts, "Original item" is not linked with management information, but "Management information linkage item" is linked. (As the name suggests) If you create the "Prefecture" field in the form with "Tag", you can search for leads by prefecture from the "Tag" of the lead search.
If the person who registered as a lead accesses the website from the delivered e-mail newsletter, can I see the behavior history without entering information in the form?
Yes, if you are already a lead registered person in BowNow's database, you can track your behavior without registering information in the mail form when you flow from the e-mail newsletter to the website.
When sending emails from BowNow, do I have to prepare something like downloadable materials?
When delivering an e-mail newsletter, you can deliver the e-mail newsletter without preparing downloadable materials. However, if the purpose of delivering the email is to "determine the degree of consideration of the lead", you need to make a follow-up call or email to determine.
Without a mechanism like downloading materials, there is no "excuse to contact". Considering that the purpose of the e-mail newsletter is not to publish, but to "make an excuse to contact", it is still recommended to prepare materials that can be downloaded.
How should I choose the key page to set the manifest status?
Using Google Analytics, you can extract a list of pages that have been viewed up to the inquiry completion page (thanks page).
Let's set the conditions to extract the pages viewed up to the thanks page. Action> Site content> Click "Add Segment" and "New Segment" from all pages.
As a new segment, create a condition that specifies the URL of the "inquiry completion page" as shown below. This segment allows you to list the "pages viewed before your inquiry". Register the URL that can be judged as the key page from there.
Google Analytics can only analyze the "past", so please use this as a reference for the "key page".
If multiple people log in to BowNow, they will be kicked out.
BowNow is multiple people, and if you log in with the same account, the person who was logged in first will be logged out. Issue an account for the person in charge of using BowNow, and log in using each account.
In the email transmission history, the arrival rate is 100%, but an error is returned.
BowNow's mail arrival rate indicates that the mail sent by BowNow has arrived at the other party's mail server. If an error occurs in the route that the mail that arrives at the other party's mail server is received by the recipient's computer, it will not be judged as an error on BowNow. Check the email address that the error email is returned to, delete it from BowNow, and change the email address if necessary.
What are the minimum required items when registering as a lead with BowNow?
All you need to do is enter 1 in "Last Name", "Email Address", and "Request for Email Delivery".
If it takes time to prepare the data, consider registering with only the above three. Detailed information about leads can be additionally acquired during operation.
Please also use the prefecture / city / address division (Excel macro) .
How should I use "Apo prospect"?
"Apo prospect" is used to know that the lead who sent the quotation or materials in the past "has been considered again" after a while. Leads that do not receive an order after making a quote or sending materials will change to "Loss of Order" status.
After 90 days in the Lost Order status, it will be tagged as Reactive. Leads with this reactive tag will go up to "Apo Expected" if there are two or more sessions that include a key page. Let's do business positively.
In order to utilize the "appointment prospect", it is important to positively make a "loss of order". If you create a status such as "pending" or "estimated" and put it in it, you will not know that "the degree of consideration has increased again", so be careful.
How should I measure the effect of delivering emails?
If you have SFA (Sales Force Automation System) installed or linked with BowNow, you can measure the effect on the SFA side, but how should you measure the effect of delivering emails as BowNow alone? Is it? In general, indicators that can be used as a result of marketing automation include the number of customers, the number of orders, and the amount of orders for each "customer stage" as shown in the table below.
| | |
| --- | --- |
| Engaged | Number of leads taking actions that lead to purchasing behavior, such as downloading content |
| Target | Leads that match your target |
| MQL (Marketing Qualified Lead) | Prospects with some advanced purchasing status |
| SQL (Sales Qualified Lead) | Targets that inside sales or sales follow in MQL to identify garbled deals |
However, the "status" used in BowNow is not attached to the lead as fixed information and is fluid. For example, even if a lead has an "estimated" status, it will return to the order status if it receives an order, to the lost order status if it loses an order, and to periodically return the order status to "unset". It is difficult to grasp the number of people who have reached the estimate from the inflow of emails later.
Therefore, it is recommended to add "tags" to at least the following.
"Quotation proposal" tag: Granted to the person who made the quote. Granted when moving the status to "estimated".
"Order" tag … Similarly, when an order is placed, the status is not only transferred to the order but also tagged.
By doing this, you can narrow down the number of quotes and orders received from the lead search screen under the condition of "email inflow" and extract them as data later.
I want to send a thank-you email all at once only to the specific lead who downloaded the material.
If you send e-mail news and encourage the download of materials, many people will download it. Among them, there are leads that you want to contact individually and respond to, and leads that "want to send a fixed example sentence" because it is not a very target. If you want to send the same standard email to multiple people, you can process it as follows.
Add a specific tag such as "0117 Thank you email" to those who want to send standard emails.
In lead search, extract people with that tag and create an email delivery list
Send using BowNow's mail delivery function
There is an upper limit (250) for the number of tags that can be used, so delete them after sending.
Setting> Set up the system> By clicking the tracking code name, you can delete the tag attached to the lead by deleting the created tag.