When renewing the websites of manufacturing companies such as manufacturers and processing companies, it is important to set the purpose of "what the renewal is for", and most of the requests to our company are for "development of new customers". Then, when you ask "Who is your target customer?", You will receive the following reply.
Not decided, not decided
After renewing the website, think from the inquiries that came
Industries that are growing for the time being, such as the medical industry and aviation industry
Target frequently searched words with SEO keywords
Therefore, in this article, we will consider how manufacturing companies should decide the "target" when renewing their website.
1. Is it necessary to set a target?
There is a need to set a target.

If you think of the business market as a kind of outer space, thinking about "who" and "what" to provide is to decide "where to do business". Since we cannot do business in the dark clouds against the vast universe, we need to decide on a "business domain" such as "We will create an oxygen supply system around Venus and contribute to creating an environment where people can live."

The area in which you do business is called the "business domain." A business domain consists of three axes: "who", "what", and "how".
Deciding on a business domain is the basis for making a "decision not to do" decision. When "to anyone" becomes "anyone", you can't decide what to do or not to do, so you can't create the concept of website renewal. As a result, it will be a web renewal that "just looks beautiful" and does not lead to results.
2. Recognition of new opportunities
The timing of a website renewal is similar to the timing of insect molting. It is a stepping stone to transform from the existing "company" to a new "company". So how can companies discover "new opportunities"? Analyzing the business environment, the ability of the company, and the transformation team will lead to the discovery of new opportunities.
External environment analysis-PESTEL, etc.
First of all, it is important to deepen your understanding of the business environment in which your company is located. Break down the external environment into six elements of PESTEL and evaluate whether it is an opportunity or a threat. While doing business, we tend to overlook other factors, although we have a better understanding of the economic and technological environment.
Analyzing political factors can help you discover risks. Risk analysis is especially necessary when politics has a direct impact on the business environment or when citizens have a strong ability to change politics.
Economic growth rate, exchange rate, interest rate measures, business cycle, etc. In particular, there are cycles in the economy and industry trends of the economy as a whole, and it is useful to know which cycle they are in now.
Social factors that affect supply and demand. Population composition, social interests and cultural factors. It also includes the social impact of industry communities and networks.
Technological trends, new materials, new products, etc. that affect multiple industries. R & D expenses, number of patents, number of citations of technical papers, etc.
Elements related to environmental issues. Environmental regulations have an impact on the business environment, but they can also be seen as opportunities.
The impact of various laws and regulations. In addition to being in place as a law, it also includes the demands and actions that the industry considers to be "common sense."
Below is a sample of PESTEL analysis. We will research each element that seems to be related to our company and sort it out while discussing whether it is considered an opportunity or a threat.
The purpose of analyzing the external environment is to discover "which is the most influential factor for us" and share it with the team.
Internal environment analysis-VRIO, value chain, etc.
PESTEL analyzes the environment outside the company, while VRIO and the value chain analyze the environment inside the company. This time, I would like to introduce VRIO.

VRIO analysis analyzes what strengths your company has and how "strong" those strengths are. Strengths consist of resources (people, things, money, information) and capabilities (ability to utilize resources). Write down your company's strengths and evaluate them one by one in the order of V → R → I → O.
Value (economic value)
1. Is it worth it to the customer?
2. Seize opportunities in the external environment / Mitigate threats?
3. Is the cost profitable?
▼ Even if it is worth it, R is necessary because it can be imitated if it is common in the competition
Rareness
Is it a resource / capability that other companies do not have or only a few companies have, such as patents?
▼ It must be difficult to imitate even if it is valuable and rare
Imitability
Is the competition a resource / capability that is difficult to imitate or costly to obtain?
Difficulty in imitation is often deeply linked to organizational activity, skills, and human linkage. Competitive advantage is not a visible "difference" in IT systems.
▼ Worth, rare, difficult to imitate, but without organizational support …
Organization
Organizational structure, formal / informal management. Resources / capabilities with V, R, and I also lose value if not used systematically.
Below is a sample of VRIO. Is it worth it after writing out the resource capabilities? Is it rare? Is it difficult to imitate? Does your organization support it? The question is evaluated with YES and NO, and the line ends when it is judged as NO. VRIO reveals the most competitive strengths.
A web renewal team is a transformation team that transforms your organization. By analyzing the external environment and the internal environment, we can see "what kind of opportunities we have" and "what kind of strengths we can utilize", so we will come up with ideas for new directions based on opportunities x strengths.

When renewing the website, we will consider a plan that "fits our company three years from now." Discuss and decide on the direction of what should be done three years from now, rather than "fitting perfectly for your current company."
3. Find the ideal customer
Next, we will clarify the attributes of the company that contributes the most to your company. This is the corporate version of "persona" often referred to in the BtoC field, and is called ICP (Ideal Customer Profile). Based on the ICP, score the companies you want to target and decide the target.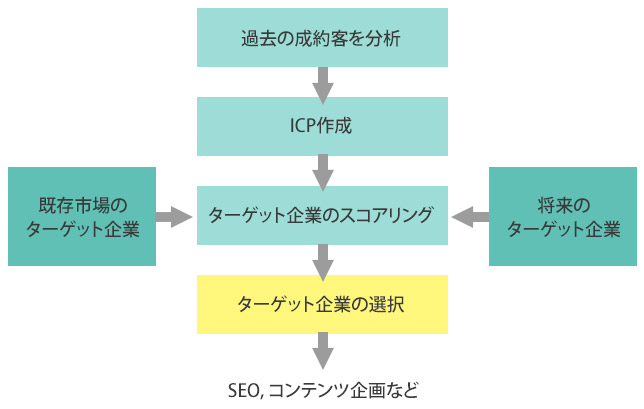 Analyzing past contractors
Analyze past contractors. In the past, the customer certainly pays you to buy a product or service. It can be said that it is a customer who understands the "value" of your company. Reveal the attributes of that customer.
Number of potential customers
How many prospects have you acquired in the last 1-3 years?
The number of days it took for the prospect to close. In business terms, the steps from becoming a prospect to closing a deal are called "pipelines." The number of days to close is the speed of going through the pipeline.
It is the unit price (amount) at the time of contract.
The percentage of potential customers closing.
A closed customer may place an order multiple times a year. "Annual sales per company" is the amount of annual orders received from one company, including repeat orders.
Analyzing existing customers, we find that all client companies "do not have a common result." For your company, it is better to have a short time to close a contract, and it is preferable to have a high contract unit price and contract rate. Identify the customers who have the greatest impact on your company and create a profile sheet for that company.

Items such as the following should be included in the profile sheet.

·industry
・ Direction of differentiation
・ Location
·number of employees
·Annual sales
·budget
・ Number of business establishments
・ Business years
・ Technology
・ Technology readiness level
・ Customer scale
・ Our company's "pain" that can be solved by ourselves

Below is a sample of ICP.
If there is an item that can be seen in common across multiple companies, set a score so that it can be evaluated by weighting.

For example, if the number of employees is "500-1,000" the most,

50 people or less: -10
51-300 people: -5
301-500 people: +5
501-1,000 people: +10
1001-5,000 people: +5
Like.
Target company scoring and selection
Next, we will perform scoring in light of the ICP by combining the companies that we want to target and the companies that the sales department has as "sales development destinations" from the perspective of opportunity x strength. Scoring requires a system to be done in earnest, but before spending money on it, we focus on "consensus" within the transformation team .

The idea of a score differs from person to person, so we will share and set why that person thinks it is that score. From a consensus building perspective, the transformation team should include at least sales, technical, and marketing (or web) personnel.

Once scoring is complete, a list of "Companies to Target" will be created.

The target company is in a state where the specific company name can be known . We will renew the website while considering content marketing and SEO measures, focusing on the issues and needs of those companies.
BtoB, the pitfall of "SEO most important" in the Web strategy of manufacturing companies Search needs do not always have business benefits .

In particular, if you try to take search measures with a big word that has a certain number of searches (eg machine design, etc.), you will start with a general explanation of machine design, and then you will find "knowledge and know-how" such as points by material and mass production / small lot. The information is biased toward. This certainly contributes to attracting customers to the Web. However, it does not meet the needs of customers.

The idea that "if you attract a lot of people, some of them will make inquiries" is an approach to the mass. In the case of BtoC, there are few elements that "the needs of each customer represent many", so there is no choice but to approach the volume zone to some extent.

However, in the case of BtoB, you can decide which company you want to target. Proposing keywords and content that correspond to the specific issues of the company will enhance the ability to propose websites.
There are four types of website content for each target customer. From the content for increasing awareness (attracting customers), it goes from latent to semi-existent to actual, and finally leads to inquiries. The content of each stage is different for the target audience, and the purpose is to move to the stage to the right.
| | | | |
| --- | --- | --- | --- |
| Awareness expansion | Latent layer | Semi-explicit layer | Overt layer |
| Content planning to let people know that there is such a product | Content planning that reveals the needs of users who are unaware of their own issues | Content planning for specific examination | Content planning necessary for purchase / request |
| Industry trends, term definitions, statistical data, etc. | Case studies, application examples, interviews, etc. | Price / price, comparison with other companies, introduction flow, catalog, etc. | Data sheet, FAQ, request for quote |
SEO-focused websites have a lot of awareness and content for the latent layer, but tend to have less content for the quasi-explicit and actual layer.

The content at this stage deals with "what is different compared to other companies", "how much is the price", "can you really solve your company's problems", etc., so it is called "competitor" or "your company's value". You can't plan unless you face each other.

SEO measures for manufacturing companies are not difficult compared to professionals such as consumers, finance, and lawyers. After all, I think that considering everything centered on your target customers is a shortcut to SEO measures.
【summary】
We have organized the target thinking about the website renewal of manufacturing companies. Target will analyze the external environment × internal environment by the transformation team, formulate an ICP from past customer analysis, and formulate a list of new target companies.

It's not that SEO measures are unnecessary, but it is important to consider why your past customers are choosing it by creating an ICP, etc., rather than going to the keyword tool first when it comes to website renewal.

As a member of the transformation team, we will support discussions and so on. Please contact us regarding the web renewal of manufacturing companies.